Wermerson Orthodontics Blog
Posts for tag: celebrity smiles
By Wermerson Orthodontics Prof. LLC
June 28, 2021
For nearly two decades, singer-songwriter Taylor Swift has dominated the pop and country charts. In December she launched her ninth studio album, called evermore, and in January she delighted fans by releasing two bonus tracks. And although her immense fame earns her plenty of celebrity gossip coverage, she's managed to avoid scandals that plague other superstars. She did, however, run into a bit of trouble a few years ago—and there's video to prove it. It seems Taylor once had a bad habit of losing her orthodontic retainer on the road.
She's not alone! Anyone who's had to wear a retainer knows how easy it is to misplace one. No, you won't need rehab—although you might get a mild scolding from your dentist like Taylor did in her tongue-in-cheek YouTube video. You do, though, face a bigger problem if you don't replace it: Not wearing a retainer could undo all the time and effort it took to acquire that straight, beautiful smile. That's because the same natural mechanism that makes moving teeth orthodontically possible can also work in reverse once the braces or clear aligners are removed and no longer exerting pressure on the teeth. Without that pressure, the ligaments that hold your teeth in place can "remember" where the teeth were originally and gradually move them back.
A retainer prevents this by applying just enough pressure to keep or "retain" the teeth in their new position. And it's really not the end of the world if you lose or break your retainer. You can have it replaced with a new one, but that's an unwelcome, added expense.
You do have another option other than the removable (and easily misplaced) kind: a bonded retainer, a thin wire bonded to the back of the teeth. You can't lose it because it's always with you—fixed in place until the orthodontist removes it. And because it's hidden behind the teeth, no one but you and your orthodontist need to know you're wearing it—something you can't always say about a removable one.
Bonded retainers do have a few disadvantages. The wire can feel odd to your tongue and may take a little time to get used to it. It can make flossing difficult, which can increase the risk of dental disease. However, interdental floss picks can help here.  And although you can't lose it, a bonded retainer can break if it encounters too much biting force—although that's rare.
Your choice of bonded or removable retainer depends mainly on your individual situation and what your orthodontist recommends. But, if losing a retainer is a concern, a bonded retainer may be the way to go. And take if from Taylor: It's better to keep your retainer than to lose it.
If you would like more information about protecting your smile after orthodontics, please contact us or schedule a consultation. To learn more, read the Dear Doctor magazine article "The Importance of Orthodontic Retainers."
By Wermerson Orthodontics Prof. LLC
May 19, 2021
Dorit Kemsley isn't shy. Best known to fans as an outspoken and sometimes outrageous cast member of the reality show Real Housewives of Beverly Hills, Kemsley is never reticent about "mixing it up" with fellow castmates or their significant others. Recently, though, she confessed to something that left her less than confident: her smile.
Kemsley has been self-conscious about her smile because her teeth looked noticeably short, worn down from an unconscious habit of grinding her teeth. Although teeth grinding is more common among children (who normally grow out of it by adolescence), it can persist into adulthood, usually from difficulties managing high stress (a likely component in the fashion designer/reality show star's busy life).
Stress-induced teeth grinding can occur during waking hours or, more likely, during deep sleep. The accumulating, long-term effects from the habit can lead not only to worn teeth but to weakened gum support, a high risk of tooth fracture or jaw pain and dysfunction.
So, how do you know if you grind your teeth, especially if it's only happening at night? Typical signs include sore jaws after awaking from sleep, increased tooth pain or sensitivity or, like Kemsley, a noticeable difference in your tooth length. Your family or sleeping partner may also complain about the "skin-crawling" noise you make during the night.
There are ways to lessen the effects of teeth grinding. The first step is to have us verify the underlying cause for the habit. If it's tension from stress, then you might reduce the habit's occurrences by learning better stress management or relaxation techniques through individual counseling, group support or biofeedback therapy. We can also fit you with a mouth guard to wear at night or through the day that reduces the force generated during teeth grinding.
And if you've already experienced accelerated tooth wear like Kemsley with a resultant "small teeth" smile, you might pursue the same solution as the RHOBH star: dental veneers. These thin, life-like wafers of porcelain are custom-made to mask imperfections like chips, staining, slight tooth gaps and, yes, worn teeth.
Veneers are often less expensive and invasive than other cosmetic techniques, yet they can have a transformative effect, as Kemsley's Instagram followers have seen. In conjunction with other dental treatments needed to repair any underlying damage caused by a grinding habit, veneers are an effective fix for the smile you present to the world.
If you suspect you may have a grinding habit, see us for a complete examination. From there, we'll help you protect your teeth and your smile.
If you would like more information on teeth grinding habits and their effects, please contact us or schedule a consultation. To learn more, read the Dear Doctor magazine article "Teeth Grinding."
By Wermerson Orthodontics Prof. LLC
April 09, 2021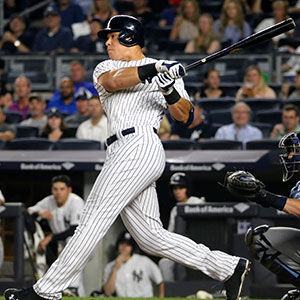 Between the final game of the World Series in late October and spring training in February, major league baseball players work on their skills preparing for the new season. Reporters on a Zoom call to the New York Yankees' training camp wanted to know what star outfielder Aaron Judge had been doing along those lines. But when he smiled, their interest turned elsewhere: What had Aaron Judge done to his teeth?
Already with 120 homers after only five seasons, Judge is a top player with the Yankees. His smile, however, has been less than spectacular. Besides a noticeable gap between his top front teeth (which were also more prominent than the rest of his teeth), Judge also had a chipped tooth injury on a batting helmet in 2017 during a home plate celebration for a fellow player's walk-off home run.
But now Judge's teeth look even, with no chip and no gap. So, what did the Yankee slugger have done?
He hasn't quite said, but it looks as though he received a "smile makeover" with porcelain veneers, one of the best ways to turn dental "ugly ducklings" into "beautiful swans." And what's even better is that veneers aren't limited to superstar athletes or performers—if you have teeth with a few moderate dental flaws, veneers could also change your smile.
As the name implies, veneers are thin shells of porcelain bonded to the front of teeth to mask chips, cracks, discolorations or slight gaps between teeth. They may even help even out disproportionately sized teeth. Veneers are custom-made by dental technicians based on a patient's particular tooth dimensions and color.
Like other cosmetic techniques, veneers are a blend of technology and artistry. They're made of a durable form of dental porcelain that can withstand biting forces (within reason, though—you'd want to avoid biting down on ice or a hard piece of food with veneered teeth). They're also carefully colored so that they blend seamlessly with your other teeth. With the right artistic touch, we can make them look as natural as possible.
Although porcelain veneers can accommodate a wide range of dental defects, they may not be suitable for more severe flaws. After examining your teeth, we'll let you know if you're a good candidate for veneers or if you should consider another restoration. Chances are, though, veneers could be your way to achieve what Aaron Judge did—a home run smile.
If you would like more information about porcelain veneers, please contact us or schedule a consultation. To learn more, read the Dear Doctor magazine article "Porcelain Veneers: Strength & Beauty As Never Before."