Wermerson Orthodontics Blog
Posts for tag: oral health
By Wermerson Orthodontics Prof. LLC
July 18, 2021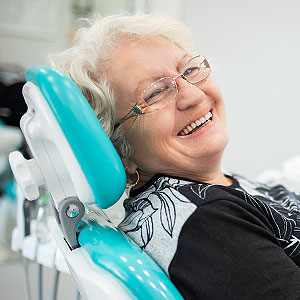 Millions of people are currently caring for an elderly family member. If that describes your family, then you know how overwhelming that responsibility can be at times.
A part of that responsibility is making sure they have healthy teeth and gums, a critical part of their overall well-being. But as with the rest of the body, teeth and gums can wear and become disease-prone as a person gets older. To further complicate things, an older adult may not be able to take care of their own oral health due to physical and cognitive decline.
Maintaining an older loved one's oral health is difficult, but not impossible. Here are 4 areas on which you should focus to ensure they have the healthiest teeth and gums possible.
Oral hygiene. It's important for all of us to avoid tooth decay and gum disease by brushing and flossing daily to remove bacterial plaque, the prime cause for dental disease. You can switch an older adult who is having trouble performing these tasks because of physical impairment to large handled toothbrushes or a water flosser to make things easier. In some cases, you may have to perform these tasks for them.
Dental visits. Dental cleanings at least twice a year further lower the risk of disease, especially in older adults. Regular dental visits are also important to monitor an older person's oral health, and to initiate treatment when the need arises. Catching dental disease early at any age improves outcomes.
Dental work. An older person may have various forms of dental work like fillings, crowns, bridges or dentures. Keeping them in top shape helps them maintain their oral health and protect any of their remaining teeth. Have their dental work checked regularly by a dentist, especially dentures that can lose their fit over time.
Oral cancer. Although not as prevalent as other forms, this deadly cancer does occur in higher rates among people over 65. Be sure, then, that an oral cancer screening is a component of your older family member's regular dental evaluations. And any time you notice a sore or other abnormality in their mouth, have it evaluated by their dentist as soon as possible.
If you would like more information on dental care for older adults, please contact us or schedule an appointment for a consultation. You can also learn more about this topic by reading the Dear Doctor magazine article "Aging & Dental Health."
By Wermerson Orthodontics Prof. LLC
July 08, 2021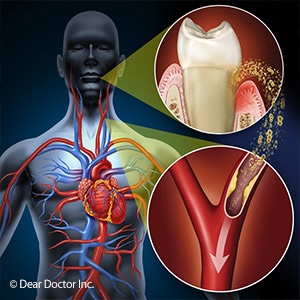 Preventing periodontal (gum) disease not only preserves your teeth and gums, it might also benefit the rest of your health. There's growing evidence that gum disease has links to other systemic diseases.
Gum disease usually starts with dental plaque, a thin film of bacteria and food particles, which triggers a bacterial gum infection. Left untreated, the infection advances and steadily breaks down the gums' attachment to teeth.
This can create large ulcerated areas that are too weak to prevent the passing of bacteria and toxins into the bloodstream and other parts of the body. There's growing evidence from epidemiology (the study of the spread and control of disease) that this bloodstream transfer, as well as the inflammation that accompanies gum disease, could affect other body-wide conditions or diseases.
Diabetes. This chronic condition occurs when the body can't adequately produce insulin, a hormone that regulates sugar (glucose) in the blood, or can't respond to it. Diabetes can inhibit healing, cause blindness or lead to death. Both diabetes and gum disease are inflammatory in nature, and there's some evidence inflammation arising from either condition may worsen the other.
Heart disease. Heart attack, congestive heart failure, stroke and other cardiovascular diseases are a leading cause of death. Like diabetes and gum disease, these heart-related conditions are also characterized by inflammation. There are also specific types of bacteria that arise from gum disease that can travel through the body and increase the risk of heart disease.
Arthritis. An autoimmune disease, rheumatoid arthritis causes debilitating pain, particularly involving the joints, and leads to decreased mobility. Interestingly, many newly diagnosed arthritis patients are also found to have some form of periodontal disease—the two diseases, in fact, follow a similar development track. Although this may hint of a connection, we need more research to determine if there are indeed links between the two diseases.
Regardless of any direct relationships between gum disease and other conditions, preventing and treating it can improve both your oral and general health. You can lower your risk of gum disease by practicing daily brushing and flossing and undergoing regular dental cleanings to remove plaque. And at the first sign of gum problems, see your dentist as soon as possible for early intervention—the earlier the better.
If you would like more information on oral health care, please contact us or schedule an appointment for a consultation. You can also learn more about this topic by reading the Dear Doctor magazine article "Good Oral Health Leads to Better Health Overall."
By Wermerson Orthodontics Prof. LLC
May 29, 2021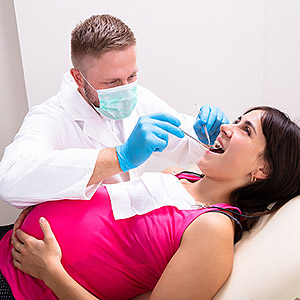 Learning you're pregnant can change your life in a heartbeat—or now two. Suddenly, what was important to you just seconds before the news takes a back seat to the reality of a new life growing within you.
But although many of your priorities will change, there's one in particular that shouldn't—taking care of your dental health. In fact, because of the hormonal changes that will begin to occur in your body, your risk of dental disease may increase during pregnancy.
Because of these hormonal variations, you may find you have increased cravings for certain foods. If that includes eating more carbohydrates (especially sugar), bacteria can begin to multiply in your mouth and make you more susceptible to tooth decay and periodontal (gum) disease.
The hormones in themselves can also increase your risk of gum disease in particular. There's even a name for a very common form of gum infection—pregnancy gingivitis—which affects around two-fifths of pregnant women. If not treated, it could aggressively spread deeper within the gums and endanger both your teeth and supporting jaw bone.
The key to minimizing both tooth decay and gum disease is to keep your mouth clean of dental plaque, a thin bacterial biofilm most responsible for these diseases. You can do this by keeping up daily brushing and flossing and maintaining regular dental cleanings and checkups. Professional dental care is especially important during pregnancy.
You may, though, have some reservations about some aspects of dental care, especially if they involve undergoing local anesthesia. But many medical organizations including the American Congress of Obstetricians and Gynecologists and the American Dental Association recommend dental treatment during pregnancy. Even procedures involving local anesthesia won't increase the risk of harm to you or your baby.
That said, though, elective dental work such as cosmetic enhancements, might be better postponed until after the baby is born. It's best to discuss with your dentist which treatments are essential and should be performed without delay, and which are not. In general, though, there's nothing to fear for you or your baby continuing your regular dental care—in fact, it's more important than ever.
If you would like more information on dental care during pregnancy, please contact us or schedule an appointment for a consultation. You can also learn more about this topic by reading the Dear Doctor magazine article "Dental Care During Pregnancy."