Invisalign at Wermerson Orthodontics
Invisalign in Sioux Falls, SD
When you hear the word "orthodontics," what comes to mind? Probably a young teenager whose teeth are covered by a latticework of metal. There are indeed many orthodontic patients who fit that description. However, there now exists an increasingly popular alternative to traditional metal braces: Invisalign® clear aligners.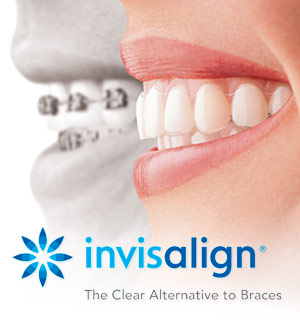 It's amazing that we have the ability to straighten smiles with the help of aligners that are not visible when we smile. Imagine going to your prom, getting those perfect senior photos, or wowing your colleagues at your next business presentation all while wearing braces. It seems hard to believe, but with Invisalign Clear Aligners, a straight smile is possible with a nearly invisible orthodontic solution.

Instead of bonding brackets and wires to your teeth, Invisalign uses a set of clear, customizable aligners which look similar to mouthguards. Before getting your aligners, your Sioux Falls orthodontist, Dr. Chris Wermerson of Wermerson Orthodontics, will use special 3D computer technology to map out your treatment plan. This includes deciding which teeth will need to move and where they will need to move in order to give you the ideal smile.

From this information, your aligners are created. When these aligners are worn they apply just the right amount of pressure to shift teeth around over time. When you visit our office for your monthly checkups, we will be able to see the changes to your smile (we will also know whether or not you have been wearing your aligners).

Aligners are made from flexible thermoplastic and each one is custom-made to fit over your smile. They are designed to fit closely to your teeth and are contoured around the gums to reduce friction and irritation. This close fit makes for an extremely comfortable feel. Most patients forget they are even wearing their aligners.

Invisalign aligners are also removable, which makes them an appealing option for both teens and adults looking to fix common misalignments like crowding, crookedness, gaps between teeth, and malocclusions (e.g. overbites; underbites). In order to achieve the results you want with Invisalign, it's important to wear your aligners for 20-22 hours each day.

A huge benefit of Invisalign is that you can remove your aligners prior to eating or brushing your teeth. This way you don't have any dietary restrictions with Invisalign and you can brush and floss your teeth normally without having to worry about cleaning between brackets and wires. Invisalign aligners are typically worn for a few weeks before being replaced with the next set in your treatment plan.
Additional benefits of Invisalign include:
Improved Oral Hygiene — With an orthodontic appliance that is removable, you will be able to clean your teeth much more easily than if you were wearing metal braces.
A Discreet Look — If you consider your orthodontic treatment to be a private matter, or simply feel that metal braces don't fit with your self-image, a practically invisible form of orthodontic treatment might suit you.
More Dietary Choices — To protect metal wires and braces, some diet modifications are necessary. With clear aligners, you can still bite into an apple or a crispy pizza crust.
Comfort — The thin, flexible material of which Invisalign is made will not irritate the soft tissues of the mouth, as metal wires and braces can.
Teeth-Grinding Protection — If you have a teeth-grinding or clenching habit, clear aligners can function as thin nightguards that will protect your teeth from excessive wear.
If you'd like to find out if you or your teen is an ideal candidate for Invisalign,
call Dr. Chris Wermerson at Wermerson Orthodontics at (605) 274-0555
to schedule a consultation!
Related Articles