Invisalign at Wermerson Orthodontics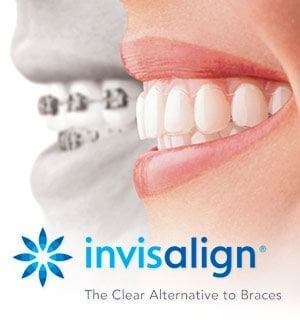 About Invisalign
Invisalign treatment has been successfully used by millions of patients worldwide who want to straighten their teeth while avoiding traditional metal braces. Invisalign is an advanced treatment used by orthodontists to help patients achieve a healthier, more beautiful smile.
What Is Invisalign?
Invisalign is an orthodontic treatment used to correct certain issues with the teeth and jaw and is an innovative orthodontic system designed to help with mild to moderate teeth issues. Invisalign treatments involve the use of removable, clear aligners. If you wear the trays as directed, they will move your teeth gradually into a better-aligned, straighter position.
Who's a Good Candidate for Invisalign?
If you're interested in Invisalign treatment, the first step is to schedule an initial consultation. This treatment is usually a viable option for someone dealing with one or more of the following dental issues:
Misaligned Teeth
If your teeth are misaligned or crooked, Invisalign is a smart option. This is one of the most common uses of Invisalign treatment.
Gaps or Spaces Between the Teeth
If you're dealing with a gap between two or more teeth, it means there are spacing issues. The extra space can cause food to get caught between your gums and teeth, potentially leading to pain, discomfort, and gum disease. With Invisalign, it's possible to close the gaps, which helps create a healthier mouth and a more beautiful smile.
Overcrowded Teeth
If there is not enough room in the jaw for all your teeth, they may overlap or twist from overcrowding. The reduced space between the teeth can also allow food to get stuck and for plaque or tartar to build up. All this can contribute to gum disease and tooth decay.
Underbite, Overbite or Crossbite
Invisalign may be effective for some bite issues, including the following:
Underbite. An underbite occurs when the bottom teeth are in front of the upper teeth. It may cause the teeth to wear faster and cause issues with speech. Invisalign can be used to move the lower teeth back into the proper position, so they sit behind the front teeth.
Overbite. An overbite occurs when the upper teeth are too far over the bottom teeth. This issue makes it hard to bite and chew food for some people. Invisalign may be effective in moving the teeth, so they align properly when the mouth is closed.
Crossbite. A crossbite occurs if some of your upper teeth are situated inside your lower teeth rather in the proper position outside of them. As time passes, a crossbite can lead to chipped teeth and cause the enamel to wear down faster than if they were in the proper position. In some situations, Invisalign is an effective solution for a crossbite, and it can be used to move teeth that are not positioned correctly.
Invisalign vs. Braces
Many people want to know the differences between Invisalign and traditional metal braces. Invisalign offers a few key benefits.
Custom-designed aligners that are virtually invisible when being worn.
Removable aligners to ensure you can continue with your oral hygiene routine and eat and drink normally.
More comfortable than traditional metal braces
Along with the benefits mentioned here, many people who use Invisalign have faster treatment times. The aligners require fewer office visits and do not require the adjustments that metal braces do.
Our Orthodontist will schedule an initial consultation and complete an evaluation to ensure that Invisalign is the right option for you.
Invisalign FAQs
What Is the Invisalign Treatment Process Like?
After our Orthodontist, Dr. Wermerson, creates your treatment plan, we will take a digital scan of your teeth. This is the blueprint for your custom aligners. Once the aligners are created, you will be given some to take home. After initial wear, you will receive a new set of aligners, modified from the prior set. Each series of aligners will work to move your teeth into the desired positions.
How Much Does Invisalign Cost?
There are several factors that will impact the total cost of your Invisalign treatment. These factors include your specific needs, how long your treatment will take, and how many aligners are required. The specific cost you pay depends on your needs and goals. All this will be reviewed during your initial consultation. Once a treatment plan is created, we can provide you with a more specific price for treatment.
How Long Does Invisalign Take?
Treatment time varies based on the specific needs of each patient. It is important to wear the aligners as directed by your Orthodontist in order to achieve your desired results.
Does Insurance Cover Invisalign?
Several dental insurance policies provide coverage for orthodontic treatment, including Invisalign. If your plan partially covers orthodontic treatment, the benefits will likely apply to Invisalign. We can assist with checking with your insurance provider to ensure coverage.
Does Invisalign Hurt?
When you first start wearing your aligners, you may feel slightly sore, or experience pressure as your mouth adjusts. Usually, over-the-counter pain medication is enough to alleviate this discomfort and as you continue to wear your aligners they should not be painful.
Call us today or complete our online form to schedule your FREE Invisalign consultation. At Wermerson Orthodontics, We look forward to seeing you smile!
If you'd like to find out if you or your teen are an ideal candidate for Invisalign, call Wermerson Orthodontics in Sioux Falls, SD today at (605) 274-0555 to schedule a consultation!
Also serving patients in Brandon, SD, Harrisburg, Hartford, and Tea as well as many other local communities!